Hi I'm Gary,
I live in the UK and spend a fair bit of time with family in Palm City FL. I have collected 4 Defenders over the last couple of years, all left hand drives. They were bought as a small investment/hobby and I spend much of my spare time tinkering with and getting them up to scratch. I have built a small geeky website to log my work/plans/pics etc.
My Lefty Landies - About
I plan to bring one of my Tithonus over this year to use in FL as a beach/fun car. (Not so much for airport runs!!) I enjoy this site and would be great to meet up with other owners in the Palm City/Stuart/Jupiter ish areas when I'm back over in November.
For now…
Gary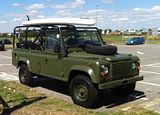 __________________